Accommodation Huts on Rwenzori Mountains
Huts for Accommodation on Rwenzori Mountains
Along the central circuit there are a number of established huts.
Nyabitaba Hut (2.660 m)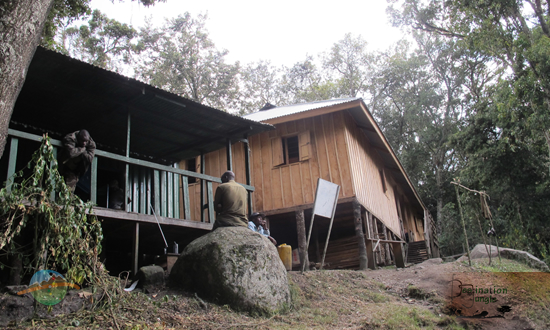 Renovated in 2008, Nyabitaba Hut is the arriving point for the first day of trekking or for a short trip to the Rwenzori. It is located 10 km from Nyakalenjija and takes about 4/5 hours walk through montane forest and the Bakonjo villages. It consists of a 2 room wooden building, with annexed pit latrine and tap water piped from the near Lake Mahoma, worthy a visit. The hut has a capacity of…beds and provides mattresses. he location is beautiful with the stunning views of the Portal Peaks in the North.
John Matte Hut (3.420 m)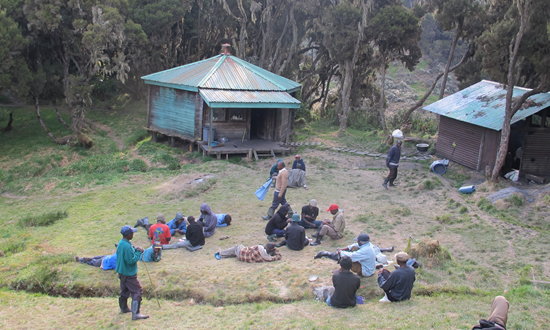 Named after the founding president of the Mountain Club of Uganda, John Matte, the hut is situated on a hillside on the banks of River Bujuku. It consists of a 3 room wooden building. It is available a pit latrine. This is the reaching point of the second day of trekking along the central circuit, which is considered the most challenging part of the trekking.
Bujuku Hut (3930 m).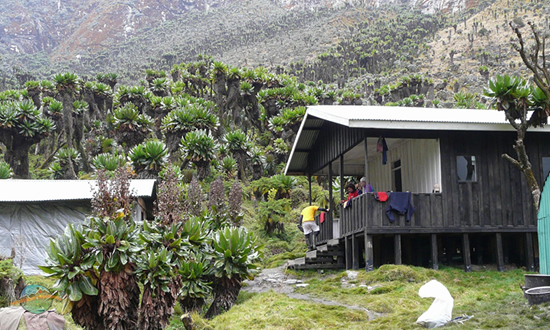 Bujuku Hut was fully renovated in 2009 and the new wooden cottage is now standing next to the old tin building. The location is superb, as it is found where the routes proceed to the Congolese side of the park, to Mount Stanley (from the South) and to Mount Speke (from the North). The name is after the Bujuku Lake, which is just near the hut. There are also eco-toilets available and spring water. From this location you have a spectacular view of the Mount Baker just in front of you, and the Stanley Plateau on the right. You plan from this hut your ascent to Mount Speke as well as to Mount Stanley.
Elena Hut (4.563 m)
This hut is the last point before climbing the Stanley plateau. It is located on a rocky area of Mount Stanley at an altitude of 4.563 m. The hut is quite small and does not offer much comforts, considering the temperature and the location. It is used mainly as the staging post for ascending Mount Stanley. It overlooks directly Mount Baker and Mount Speke, though it is often submerged by the fog.
-Kitandara Hut (3.979 m).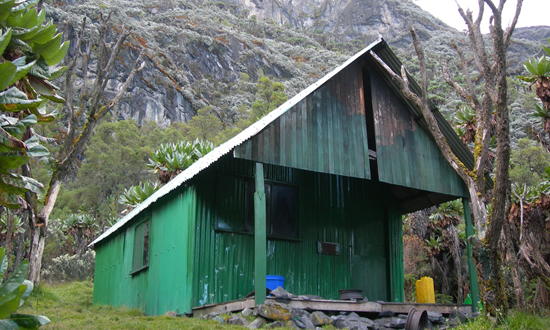 The hut is situated on the shores of the Lower Kitandara Hut, one of the most beautiful and romantic locations in the Rwenzori. It consists of a one room tin house. From this point you have the best view of the Mount Luigi of Savoy. There is a pit latrine. This is the starting point for ascending Mount Baker and Mount Luigi of Savoy.
-Guy Yeoman Hut (3.505 m).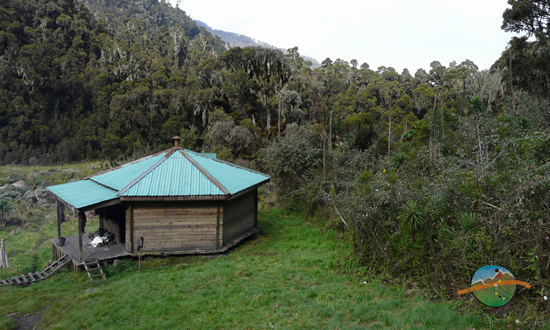 The hut is situated along the Kabamba valley on the banks of the Mubuku river, surrounded by coniferous forests. The hut consists of a 2 room wooden hut with annex pit latrine. Near the hut there are the beautiful Kabamba waterfalls.